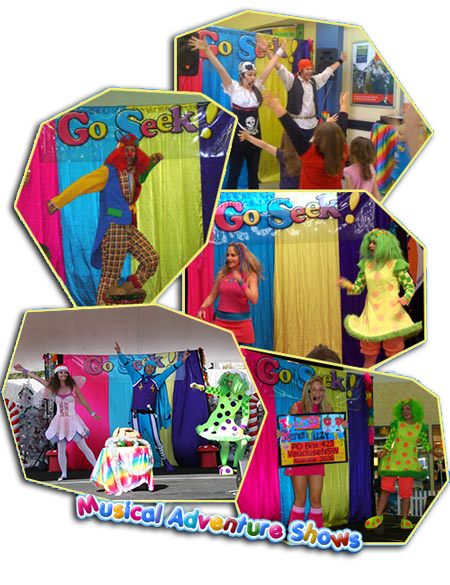 Our interactive Go Seek Shows take children on a musical journey of discovery & adventure! Kids are captivated from start to finish in a creative & fun way with frequent opportunities for participation & interaction!
Go Seek Shows cover a variety of fun and exciting, age-appropriate, educational topics including: the body and nutrition, self esteem, animals, friendship,  imagination, creativity and more.
Through interesting themes, catchy tunes, bright funky costumes, clever props, exciting story lines & high-energy routines, Go Seek Shows are designed to empower, challenge & build the self-esteem of children, emphasising self worth and inspiring children to search for answers, go exploring, make discoveries and most of all Go Seek out their dreams!
Go Seek offer a range of exciting, interactive musical shows for any event including Festivals, Shopping Centres, Clubs, Schools, Child Care Centres, Corporate Fun Days, Playgroups, Family Events & more!
Go Seek Shows include 2 – 4 characters/performers. We can adapt the shows to suit a specific topic/theme upon request. Show duration ranges from 30-45 minutes per show (however they can be tailored to suit any duration).
CURRENT SHOW SPECIALS
[AnythingPopup id="1″]
HOW TO BOOK
To BOOK a Go Seek show, please fill in this online enquiry form with your preferred date/time, along with your other details. We will confirm our availability by sending through a booking confirmation form for you to fill in and email back a signed copy. Once the signed form is received this will confirm your booking and we will send through an invoice.
If you have any questions at all, please email info@goseek.com.au or contact the Go Seek Team on 0411 765 764 / 0426 810 710.
Go Seek Shows provide a completely interactive, totally FUN experience for everybody!
Note:
– All our Go Seek Shows can be combined with other Go Seek Entertainment Services to create an even more colourful & fun atmosphere for everyone!
– Discounts apply for combination entertainment packages
– Additional performers are available upon request for an additional fee.
– All our Go Seek performers have current working with children checks
– Go Seek are covered for $20million public liability insurance
Extra Entertainment options may include:
[metaslider id=1140]